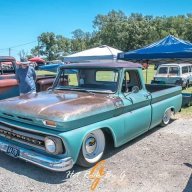 Joined

Sep 22, 2020
Posts

16
Reaction score

21
Location
First Name

Andrew
Truck Year

1985
Truck Model

C30
Engine Size

400 SBC
Good day my friends. Well over the weekend my little heart got broken so I'm here hoping someone can help.
At the start of the pandemic I bought a 1985 Single Cab Dually, which was just going to be a quick little project and drive it daily. Well nearly two years later it came completely off the frame, and this past weekend was supposed to be the first drive. This is where I need your help!
I bought some 22" Mega Hole that are direct bolt on. I love them and the front fits great with plenty of room. The front are 22x8.5" and the rear's are 22x6.75". All of the rims are running 265/35/22. When KP cut the wheels he had done a bunch in the past and said they would tuck under the rear fenders and had plenty of previous clients to show the results.
Well with the 6/8 drop they do not tuck under. It's not off by a lot maybe 1/2" or 3/4" and I'm at a loss. It's the only wheels I have so it's a sitting duck for now. The rear tires do balloon a bit since they are a bit big for a 6.75" wheel. So I thought maybe a 255/35 but that's only a .39" in width and .14" in sidewall height difference.
So here looking for help or suggestions. Smaller Tire? Ship wheels back? Narrow Rear End? 3/4 Ton Rear End? Start Drinking? haha
*yeah I know the semi wheels are played out and everyone is doing them, but I love them and building the truck for me. So please no negative comments