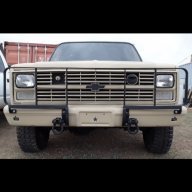 Joined

Nov 6, 2020
Posts

2,019
Reaction score

4,453
Location
First Name

Ayden
Truck Year

1986
Truck Model

K1500 Sierra Classic
Engine Size

305ci V8
The M35A3 never was equipped with a Cummins. They were equipped with a Cat 3116 diesel. It's a 45 mph deuce.

The original M35 had a Reo-Continental 331-6 gas engine. Not to be confused with the hypercycle multifuel diesel.

Found the ad for this truck.

The LDS 427 is a good engine.

The ad says head gasket leak. No brakes.

All wheels/drums should be removed and checked. Clean and pack bearings.

Hydraulic brake lines should be diligently inspected.

This truck might have the direct drive transmission. Easy to spot with a normal shift pattern.

The OD transmission has 4/5 reversed in pattern.

Around here the truck might bring $1K as it sits. No title would be a problem in any state where a title is required for licensing.

There are some truck sales in AZ and Utah. I've seen some nice ones come out of Barstow.

I got a nice truck from Nellis.

You should know it is unsafe to travel interstate highways with these trucks. The military only does this in marked convoys.

A guy was killed driving his new to him M35A3 home when he was involved in a 3 vehicle crash involving a van and a Peterbilt, in Utah.

You must be registered for see images attach
Caterpillar, not Cummins. Yes, I knew that, wrote the wrong one.
I've PM the guy, we've been chatting back and forth. Im aware of all its issues. He said he owns a construction company and could maybe arrange for transport to where my uncle lives, and I'd stay there and go threw all the systems before I'd road test it. The no title issue I can work around.
I actually just today met a guy that has a M35 A2 for sale, and it only like 10 miles away. He said it runs, but hasn't moved in a bunch of years. Looks pretty beat, but less rust, and itd be so much easier for me, because it's in my town. So after all this, I might end up passing on the Mass truck. Too far away. We'll see.