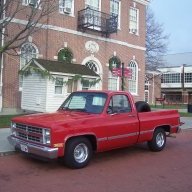 Joined

Jul 13, 2015
Posts

1,712
Reaction score

3,737
Location
First Name

Keith Seymore
Truck Year

1987
Truck Model

R10
Engine Size

4.3L
How much involvement did you have in the development of the GMT400 and GMT800?
The day I left Flint Assembly and joined engineering was the day the engineering team split into the new GMT400 and the carryover R/V truck. I was assigned to the carryover R/V. I did assembly plant liaison work (new model launch) for a couple years until I moved to the Milford Proving Ground in 1986.
I was at Milford for three years and did total vehicle development on any full size truck (so R/V, GMT400, M van, G van) which was mostly brakes, overall ride/handling and noise/vibration work. I used to travel to dealerships and fix trucks that they were not able to fix, like vehicles with significant "brake pull" issues or vibrations. Those activities continued when I moved to the Desert Proving Ground and expanded to include driveline development. I was at the Desert for four years.
I left the Desert in 1994 and came back for my first design/release gig, which was the Engine Air Induction system for the GMT800 pickups. There were seven different powertrain combinations at that time; Many parts of that system are still in use today. That was the last GM project to have a specific co-located engineering team reporting to a unique Vehicle Chief Engineer (Ken Sohocki). After that GM adopted a "matrix organization" which has subject matter technical experts "on loan" to the Program Team. The Vehicle Chief has only a couple assistant Chiefs and the integration engineer(s) that report to him. This is the organizational structure in use today.
From Chassis/Powertrain design/release I moved into the aforementioned Engineering Program Management team and was the Vehicle Integration Engineer for the 2001 GMT800 Denali and 2002 Escalade, I did the 2003 mid cycle enhancement on pickups (new front end sheetmetal and new electrical architecture), back to GM800 SUVs at which point I wrote the engineering plan for what became the Hummer H2 (at that time code named "Project Maria"), then back to GMT800 SUVs and then back to what was going to be the 2011 Hummer H2 before I turned out the lights on Hummer in 2008.
I went from the H2 program to the 2011 Volt program during the 2008 calendar year.
K
Last edited: