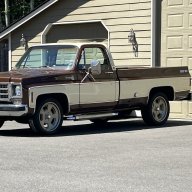 Joined

May 18, 2020
Posts

3,523
Reaction score

4,749
Location
First Name

Todd
Truck Year

1986
Truck Model

K20
Engine Size

454
Exhaust was pretty new looking when we bought the truck. After running it around now since sitting for over a year, developed a nasty tin can rattle. Hoped it was the muffler heat shields and had to take them off anyway so eliminated that potential. Exhaust rattles like hell once it warms up and actually sounds louder. Both mufflers sound like all the baffle welds came apart. Multiple clanking noises in both mufflers if you thump on them. Sounds like some of the baffles might be just laying inside the mufflers now.
What gives? They sound like they both spontaneously self destructed inside….
Been 20+ years since I bought hot rod gasser mufflers. Never had issue with Flowmasters before.
For all I know these are 20 years old, but they didn't make noise before. And the truck hasn't backfired or done anything to blow them apart.
First world problems I know…. But any ideas why they both just crapped out and come apart?
You must be registered for see images attach
Last edited: