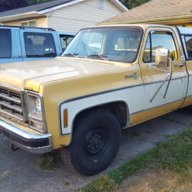 Joined

Jul 12, 2018
Posts

2,679
Reaction score

7,534
Location
First Name

Peter
Truck Year

1979
Truck Model

C20 Silverado Camper Special
Engine Size

461
My kid just got me back into car stereo stuff.
I used to have a 1982 GMC S-15 as a kid.
I managed to get a hold of a pair of PPI Art Series amplifiers.
One was a A100 that was 50w X 2 and the other was the A300 which is 150w X 2.
I coupled the A300 two a set of new at the time Kicker Solobaric 8's behind the seat in custom boxes that my older brother designed.
The door speakers were a set of 5-1/4" separates from Soundstream.
It was enough to make my eyes blur when the bass hit.
I do listen to a lot of speed metal with the double kick drums.
I still have all that gear hidden away waiting for its time to see the light of day again, that may be soon.
Here is that little guy back when I first got it back in '92 before my junior year started.
You must be registered for see images attach
For the current Squarebody that I have...
The truck already has a new set of 6.75in Kicker Separates in the doors for handling the mid range and tweeter duties.
You can just see the tweeter hiding behind the window crank.
These are currently powered by an old Sony 50 x 2 amp that
@Maxwellvis
pulled out of my stash.
They sound pretty good, they are just missing the low bass notes that make music fun.
@Maxwellvis
has them running straight from his phone and that does not work for me as I don't have any music stored in my phone plus there is not ability to adjust the sounds.
You must be registered for see images attach
I did just watched a review of this super cheap Blaupunkt Fresno head unit.
The bluetooth hooks right up and it played well and did all that it said it would for a massive outlay of $19.26 shipped to my house, so I pulled the trigger on Amazon.
https://www.amazon.com/Blaupunkt-Fresno421-Media-Receiver-Installation/dp/B07XQBP9TZ
When it is installed, we will see if this super budget item is worth the packaging it was shipped in.
Now, we need some low notes.
I will be picking up new subs for the Squarebody and as it is not my daily, I have been looking at a oddly small speaker by Savard speakers.
These little 6.5 subwoofers have me intrigued, for its mounting depth lends itself to my need to have the seat all the way back in the truck.
Their little Hi-Q 6.5 has a mounting depth of 5 inches and is rated at 350w RMS with an recommended power range of 200w to 500w.
https://www.savardspeakersystems.com/copy-of-hi-q-8
Their little Rap series 6.5 has a mounting depth of 4.125 inches and is rated at 250w RMS with an recommended power range of 125w to 325w.
https://www.savardspeakersystems.com/rap-6-5-d2v2
I just need to do some measuring to see what all I can fit behind the seat...
You must be registered for see images attach
You must be registered for see images attach