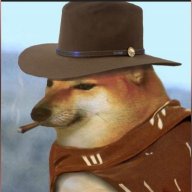 Joined

Jun 3, 2022
Posts

621
Reaction score

964
Location
First Name

Paul
Truck Year

1984
Truck Model

K1500
Engine Size

305
The other day my 3/4 inch craftsman pneumatic impact started acting up. I thought about tearing into it, but then I remembered all of the times I just used a Milwaukee Fuel on other jobs. I still use my 3/8 air ratchet quite a bit though, since it's go a marginally slimmer profile than the electric ratchets I've encountered. I'm also yet to see a viable electric air hammer, but everything else seems to have a battery fed alternative.

Pneumatic advantages:
-You have more accurate means of knowing how much power you have left (air pressure guage)
-Instant power replenishment (as long as your compressor works)
-Overall less bulky than the electric equivalent. (My 3/4 pneumatic Craftsman is roughly the same size as my Milwaukee M18 1/2 inch.)
-standardized hookups across all manufacturers.
Pneumatic Disatvantages:
-Mobility (Unless you have a massive compressor mounted to your vehicle.
-The airs hose tends to get in the way.

Battery advantages:
-mobile
-No chord or hose to trip on

Battery disadvantages:
-Expensive proprietary batteries for every manufacturer (adapters do exist for mixing and matching batteries and tools, but manufacturer warranties don't support them.)
-power demanding jobs either require you to have several charged batteries on standby or stop and wait for your drained battery to recharge.
-Lithium batteries are immensely dangerous when overheated.

These are my observations. Watching a video of a drama queen (clearly a shill) throw a nice looking blue point across his garage in a video titled "I'm never using air tools again." made me think of this question. My personal opinion is that battery operated is better than ever, but there is still certainly times where air tools are useful.