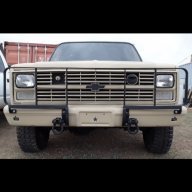 Joined

Nov 6, 2020
Posts

2,221
Reaction score

4,973
Location
First Name

Ayden
Truck Year

1986
Truck Model

K1500 Sierra Classic
Engine Size

305ci V8
I've been working on my boss's 1987 V20 wood truck, and I cant get that pain in the ass to run reliably.

So far I've replaced fuel pump, fuel pump relay, all the rubber fuel lines, the map sensor, and changed out the pressure regulator that was off a truck that was running great. I also disassembled and cleaned the whole TBI and put on a new gasket set.
And unrelated I also replaced plugs, plug wires, rotor, distributor cap, and ignition module.

The day after I replaced all that, it started up first try, and ran great. I let it run for like 15 minutes idling, then I took it for a good 2-3 mile drive, no problem. Then a week later I tried it, and nothing happened. And I still can get it running.

So I can hear the pump pumping, I can hear the relay turning on and off, the pressure seems to be regulating as it should.
If you bottle feed it, it runs fine. And want is really weird, is that sometimes after bottle feeding it, itll stay running for a couple minutes then die. One time when it did that, I ran around under the hood and watched the injectors spraying as they should, then they just shut off like a switch and about 2 seconds later it stopped running.
I'm at a lost, can't figure it out to save my life.
I have a couple TBIs at home, but never had trouble with them like this one. I'm also unfamiliar with squarebodys with TBI. All mine have carbs, never messed around with an 87 before.

All I can think of, is either the brand new pump we just bought is defective, or the injectors are on their way out.

Please help, any insight would be greatly appreciated. I'm about to loose my mind with this stupid thing.