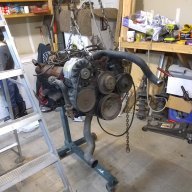 Joined

Apr 4, 2019
Posts

11
Reaction score

2
Location
First Name

Kyle
Truck Year

1985
Truck Model

C10
Engine Size

400 CID
I'd like some help identifying three likely culprit (besides myself) to my transmission going out. I need more information before I make decisions about fixing/upgrading it. Here are the circumstances:

It's an '85 C10 into which I've put a 400 SBC. I believe it was a stock 700R4. I was towing a light-weight unloaded trailer up and down hills at 60 to 70 mph at night.

First, ATF blew out the dip stick and covered everything. Then I lost power. Since I was blocking a lane on a rural highway at night, I needed to move it as quickly as possible. I added ATF and got first gear back for about 120 seconds. Added more and got first gear again for 2 more minutes. Added a bunch this way until it seemed full (?). After that, I didn't add more but let the truck sit for a couple minutes after which I got about 30 to 45 more seconds of first gear. I did this until I reached a pullout and then finally got the truck towed home.

It will still go in first for about 45 seconds. It never shifted into 2nd and there's absolutely no response (no noise at all) when shifting into reverse—not even after letting it sit.

I should mention that this episode was the first indication ever that the trans was at all unhappy. So...

1st, has anyone experienced this before and if so, what was the prognosis?

2nd, I've always suspected that pairing the 400 sbc with a 700r4 might be asking for trouble; is this true? (I did put on the externally balanced flexplate). I originally intended to stick a turbo 400 in the truck but was always hesitant to lose overdrive (as a 2wd, this is mostly a highway truck). I also believe that modding the driveshaft to fit the th400's extra length is beyond my ability to do at home. So, should I keep it with a 700r4 or pay someone to put in a turbo 400?
Last edited: