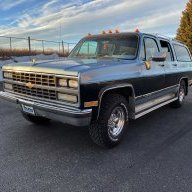 Joined

Feb 11, 2021
Posts

8
Reaction score

59
Location
First Name

James
Truck Year

1990
Truck Model

R2500 Suburban
Engine Size

350 TBI
Hello all - me and my 1990 R2500 Sub are new to the forum. 5.7 liter TBI, 2WD, 4.10 gears, 170,000 miles. I'd like to add overdrive to the Sub at some point in the near future. Maybe this summer if I can source all the right parts. Love the TH400 for it's rock solid dependability but I really would like to go the speed limit on the freeway (80 MPH here) without spinning over 3,400 RPM. I usually try to stay right at 70 MPH which is still 3,000 RPM and after a while feels like I'm flying in a jet. I'd take any MPG gains of course but the primary goal here is modern drivability.
I've narrowed it down to two choices:
1. Add a 4L80E and EZ-TCU transmission controller - find shifter linkage that will work for the 4L80E (does the linkage from a 700r4 swap right over?), move cross member, shorten the driveshaft, etc.
2. Find a Gear Vendors overdrive unit and use that with the TH400. I believe the biggest alteration here will be to shorten the driveshaft to accommodate the GV unit.
For any of you that have done similar swaps, which would you choose? I don't currently tow anything, but I do see towing a car trailer with 3-4 four wheelers with it one day. I would like for whichever setup I go with to be AUTOMATIC - I'd prefer not to have to switch OD on or off. I'd like to spend $3,000 or less for the whole thing. Any more than that and I think I'll just keep driving 70 MPH and take the 2-3 MPG hit on economy. Maybe put in earbuds.
Thanks in advance for any advice or words of wisdom on this swap! Here she is for those that haven't seen her yet.
You must be registered for see images attach