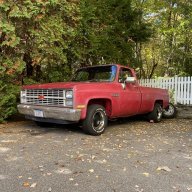 Joined

Jun 16, 2022
Posts

4
Reaction score

2
Location
First Name

Chris
Truck Year

1984
Truck Model

C10
Engine Size

4.1L I-6 250
Hello All,

I've recently gotten back into getting my 84 C-10 back on the road - it was gifted to me by my father who acquired it 10+ years ago, but only drove it a handful of times after he was stranded when the column shift linkage failed (don't recall what exactly happened).

I've never driven this truck personally (although i've taken a few rides in it), but a couple of years ago my father and I spent an afternoon converting it to floor shift with a Hurst Mastershift 3 Speed Manual Shifter (purchased new with the correct linkage kit), because I wanted something a little more reliable than the column shift. And, after we installed it, the truck sat some more because my daughter was born the next day.

But here I am, looking to get this baby back on the road! And, my dad and I are now realizing that after we installed the floor shifter, 2nd and 3rd gear (Which on the floor would be over to the right and up for 2nd, and then straight down from there for 3rd) were reversed - meaning, 2nd gear would be where 3rd gear SHOULD be, and vice versa.

I can't for the life of me figure out why that could be. From my father's recollection (which, sometimes isn't the best) the shift pattern on the column was correct (On the column - In toward the driver, up for reverse, straight down for 1st, up and out for 2nd, then down to 3rd). There are only two levers on the transmission, one which controls Reverse and 1st, the other for 2nd and 3rd. Oddly enough, Reverse and 1st gear are catching in the correct pattern.

Has anyone run into this issue before, or have any insight? Could it be we simply installed the floor shifter incorrectly? Or, is it possible that there was / is something reversed inside the transmission all along (say, a previous owner tried to rebuild the transmission, and put 2nd gear where 3rd gear should be...? Can that even happen? Pure speculation here).

Any guidance that could be offered would be greatly appreciated. Thanks!!