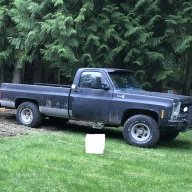 Joined

Apr 18, 2021
Posts

37
Reaction score

12
Location
First Name

Mark
Truck Year

1980
Truck Model

K15
Engine Size

350
Hello all, thanks in advance for your help! I have a step bumper on my K15 and it is barely hanging on because it is only bolted to the angle brackets that attach to the bumper near the ends of the bumper. There are supposed to be additional brackets with one end that bolt to the frame and the other end to the bumper near the license lamp. There is also a brace (not sure if that is the right term?) that is beneath the additional bracket, shaped like a "U". The vehicle front end of this brace bolts to the frame, and the vehicle rear end of this brace bolts to the additional bracket. See attached "step_bumper.jpg" which is the illustration on page 2B-2 from the 1980 GMC Service Manual (X-8032).
Neither the brace nor the additional bracket exist on my truck.
I am having a discussion with LMC Truck about my question, but I thought I'd ask the group if you have any experience with this. LMC Truck sells a Rear Step Bumper (illustrated here):
https://www.lmctruck.com/1973-87-chevy-gmc/rear-bumper/cc-1973-87-rear-step-bumper-diamond-tread
On that page, it says Bumper Mounting Kit #30-2098 is required to install this bumper. See attached 30-2098.JPG for a picture.
As you can see, Kit #30-2098 doesn't include the brace shaped like a "U". So, do I still need to use the brace shaped like a "U"? Or is Kit #30-2098 engineered such that the brace is no longer required? It seems to me that brace transferred a lot of torque from the bumper to the frame...
You must be registered for see images attach
You must be registered for see images attach