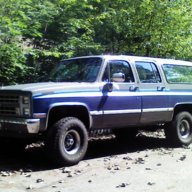 Joined

Feb 20, 2015
Posts

1,403
Reaction score

2,177
Location
First Name

Kevin
Truck Year

1987
Truck Model

V10 Suburban Silverado
Engine Size

350 TBI
I actually read your whole story and I don't usually do that. Lol.
I had an experience real early on with an officer going above and beyond to make my routine stop miserable.
I didn't fight it, I paid. Figured I break plenty of those laws can afford to pay this one. (maybe a little over speed here n there, rolled an occasional stop sign or a little burn out here n there.)

However it lead me to volunteer for my local PD for about 5 years.
I still don't name drop when pulled over but typically know what to say to make pleasant conversation to prove I'm not a d ball.
However, some kids on the power trip get the ear full from me. **** I wrinkled up a ticked once and tossed it over my shoulder while looking him in the eyes and saying swish. LOL.
I paid that one too, cuz I knew it was game over.
I think it was for mud flaps or lack thereof lol. (IMO truck reeeeally didn't need em)
Pick n choose em my man. But to each their own. I don't intentionally break the law, my trucks and bikes aren't even close to being douchie, I don't like it.
But when an officer gets bored and picks me as his time killer, we're all having fun.
I get you man, I know when not to mess with the cops, and I also know how to BS (or sometimes straight up bully) my way out of a ticket. When I was a kid my driving record was pretty smoked, and usually didn't get
too
mad about it because in my mind I knew I deserved it. That's why I get so upset about the times later in life where while doing nothing wrong they still go out of their way to power trip and it just pisses me off how they always get their way in those situations, seemingly moreso than some of the times they actually catch you red handed! I know not all cops are bad, I've met plenty of cool ones (or more realistically a couple cool ones and several who were at least reasonable decent guys who are just doing their job), but there are some really terrible ones out there and it's a gamble you never know who you're gonna get stopped by. That's why I don't poke the beehive without first knowing for sure if it's full of honey or wasps.