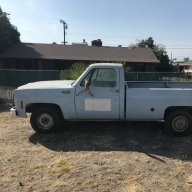 Joined

Jun 20, 2020
Posts

17
Reaction score

6
Location
First Name

Andrew
Truck Year

1975
Truck Model

C10
Engine Size

350
I've been working on a 1975 C10. I got it driving last month, but the idle has been high. I drove it down the street today (to get out of my neighborhood and get the engine warmed up). I adjusted the high idle screw until the engine was sounding pretty quiet. I don't have a tach, but when I shift into 1st gear and let the truck go without touching the gas, I was cruising at 5-8 mph which seemed reasonable.

Next I left the truck running, and fed about half a can of Sea Foam in through the vacuum line that normally runs to the charcoal canister. The engine would rev up when I was pouring the sea foam in, but I never saw smoke and the engine did not stall. I stopped the engine and put the remaining half can of sea foam into the gas tank I got into my truck to drive home, and the engine would turn over but it would not start.

I really wasn't sure what the problem was, but I followed the section of the manual for flooded engines - fully depress the pedal and start the car. After a few tries, the engine roared to life but I took my foot off the gas and instead of idling the engine died. I was not able to get it started again.

Would greatly appreciated any suggestions. I'm scratching my head on this one, and I'd like to get it back home without towing.