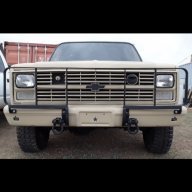 Joined

Nov 6, 2020
Posts

2,507
Reaction score

5,631
Location
First Name

Ayden
Truck Year

1986
Truck Model

K1500 Sierra Classic
Engine Size

305ci V8
Hello all. Odd question...

So one my boss's friends has a 03 GMC Yukon, that they left at his house. I guess they were moving, so they dumped it there and just forgot about it until just recently.
Well it's just been sitting in the back back yard now for like a year, and they finally came by and we got talking. They decided they're just gonna bring it to the scrapyard and junk it, dont want to think about it anymore. It runs and drives, but it's a complete toilet. I mean they trashed the thing, it stinks, everything is busted inside, body looks like crap, it is garbage.
But... it does still run and drive.
Its 5.3 Vortec LS, 4L65E, NP246, and 8in 10bolt rear end.
Engine has like 300k but runs, trans she said is a little iffy, but functions, everything else is okay.

Now I'm not an LS guy, dont ever really want to mess with one (too many wires and sensors and computerised thingamajigs), but, I know so many people love them, and theres still a huge market or swaping them into things.

So there's my question, should I buy this hunk o junk, just or a potential chassis resale? Is it worth it?
I mean if they send it to scrap, shes probably only gonna get like 200$ for it, so i thought I'd just offer them like 200 and to just take it off they're hands free of the hassle.
Thought maybe just keep the doors and glass, and the brain, and then pull the body off and scrap it and just keep the frame with all the goodies.

Dont know what LS are worth nowadays, I know they've gone down in demand and popularity a bit. Especially a 5.3 with 300k ish miles on it, so she says.

Worth the headache or 200$ or somewhere around there, or should I just let it go to scrap and wave bye bye?

Thanks.